Description
HomePure Nova
CLEAN WATER, PURE LIFE!
For years, the HomePure Filtration System has been a well-loved product, providing a premium solution to the critical need to guarantee clean, healthy, and great tasting water for you and your family.
And because we strive to keep bringing you all only the best that we can offer, we are bringing you the new, best ever fountain of life – HomePure Nova.
It's the HomePure filtration system you love, with the same world-class quality, design and technology – only made even better with nine stages of filtration and 35+ UltraTech Filter Technology!
Water Filtration Systems
There are a number of filtration products that employ various filtration methods such as the Reverse Osmosis (RO) and Ultraviolet (UV) systems.
However, Ultrafiltration (UF) based systems like the HomePure water filters are ideally suited for household needs and have a number of key advantages over RO or UV filtration.
The core UF filter in a HomePure filter cartridge produces naturally balanced water by allowing trace minerals to pass through while ensuring contaminants are filtered out. A HomePure filter will absorb and remove 97% of chlorine; 99% of turbidity; 99% of the 46 types of VOCs (volatile organic compounds) such as atrazine, carbofuran, lindane, simazine and toluene; as well as heavy metals (Hg, Pb, Cr, Fe, Al, Cu), herbicides, pesticides, and trihalomethanes.
HomePure's reduction of heavy metals is evaluated and supported by the independent laboratory, Korea Conformity Laboratories (KCL).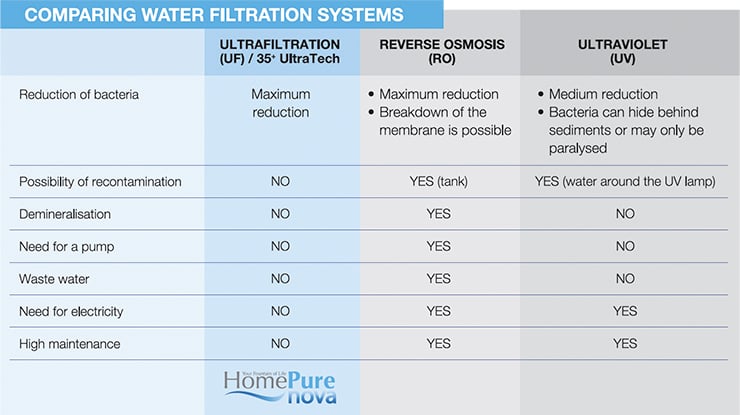 HomePure water filters must only be used with a treated metropolitan water supply. The water supply must not be hotter than 35° C. For low-clarity water supplies, the HomePure Prefilter is recommended to protect the life of the HomePure Filter Cartridge
HomePure water is Pi-Water
Your HomePure Nova Water Filtration System makes Pi-Water based on Dr Yamashita's research. The water is treated with microscopic quantities of Ferric Ferrous salt (Fe2Fe3) to mimic living body water and transform it into Pi-Water, the water of life.
Conversion of ordinary water to living body water consumes a lot of energy. Pi-Water consumes less energy and is absorbed by the body easily. Because Pi-Water is similar to 'Living Body Water', it allows the body to better absorb the oxygen and minerals that come with the water molecules.
Why HomePure Nova ?
NEXT-LEVEL INNOVATION: 9-STAGE FILTRATION SYSTEM
HomePure Nova provides you clean and safe drinking water enriched with minerals through, not seven, but NINE stages of filtration. The new stages are made up of the following additional features: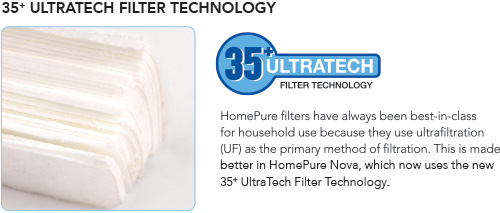 WHAT ARE THE ADVANTAGES OF THIS NEW TECHNOLOGY?

NEW ENHANCED FEATURES
Microban® Antibacterial Protection
Microban® antibacterial technology is built-in to the water tank, head adapter, and LPDE hose inside the flexible pipe of HomePure Nova during the manufacturing process to help prevent the growth of bacteria, mould and mildew that can adversely affect the performance of your HomePure Nova.
Microban® antibacterial and antifungal technologies provide a bactericidal and fungicidal effects that reduce the bacterial and fungal contamination on surface, protection that surface from the damaging effects of microorganisms that can shorten the life cycle of a product or adversely affect product performance.
ENHANCED LED INDICATOR
HomePure Nova now has a "lifetime mode", a LED, and beep buzzer that can detect both the age and water volume of the filter cartridge lifespan, and allow it to be identified by different LED lights.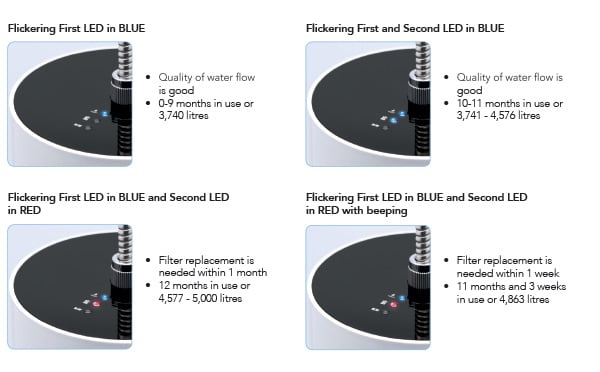 Third party Endorsement
VALIDATED AND ENDORSED BY THIRD-PARTY PROFESSIONALS
NSF International
Certified for:
NSF/ANSI 42      – Reducing chlorine, taste, odour, and particulates.
NSF/ANSI 53      – Reducing health-related contaminants like volatile organic chemicals, and asbestos.
NSF/ANSI 401    – Reducing emerging contaminants like some prescription/OTC drugs, flame retardants, detergents, new types of pesticides and herbicides
NSF/ANSI P231 – Removing microbiological contaminants like bacteria, viruses, and protozoa.*
*NSF/ANSI P231 is undergoing certification testing.
Korea Conformity Laboratories
Certified for General Purification Ability and Capacity of Water Purifier.
Tested for Lead Reduction.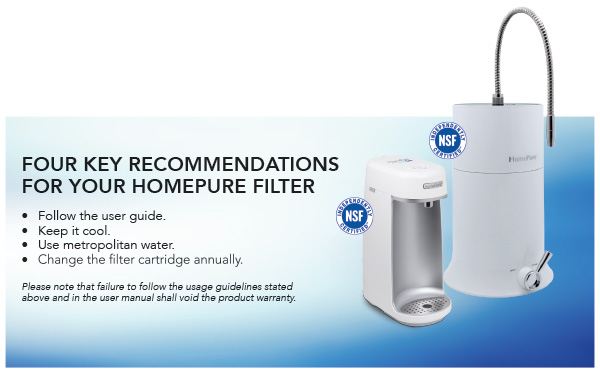 ---
It's the HomePure filtration system you love, with the same world-class quality, design and technology – only made even better with nine stages of filtration and 35+ UltraTech Filter Technology!
---
Experience Quality Water
Does rust and dirt from your water supply reduce the performance of your HomePure 7-Stage Water Filtration System and HomePure Eaze?
The HomePure PreFilter is made from polypropylene and removes suspended solids larger than 5 microns (5/1000 mm) such as rust residues, mud and sand. The small pore size sediment prefilter is designed to help increase the clarity of the water by eliminating larger sediments of rust and silt particles.
The HomePure PreFilter prepares your water for final filtration. It is also designed for use at the sink, shower or any outlet you choose. Its modern and compact size allows for easy installation, just connect the inlet and outlet and use.
Suggested Applications:
HomePure 7-Stage Water Filtration System and HomePure Eaze
Dish washer
Coffee maker
Ice maker
Washing machine
Any sink or shower socket
Usage Guide
Use with HomePure water filtration systems.
Use with municipal tap water.
Do not use with water that is microbiologically unsafe.
Do not use with water of unknown quality without adequate disinfection before or after the Prefilter.
Check connection between all parts before use.
Flush the filter cartridge at time of installation, cartridge change and before using it after a long time.
Turn off the valve if Prefilter is not in use for a long time (for protection from water leak from high water pressure).
Turn off the valve if you see a water leak.
Change cartridge regularly to prevent deterioration of water quality.
Lifespan of the Prefilter can vary according to tap water quality.
Use with optimal water pressure and temperature.
Specifications:
Filter Housing Size: ᴓ66*294 mm.
Operating Pressure: 4-6.8 bar
Operating Temperature: 2 – 38oC
Inlet water condition: Cold or room temperature water only
Estimated life: 2,600 litres or 6 months*
*The life of HomePure Prefilter depends on the quality of water. (Based on the usage of 12 litres per day).